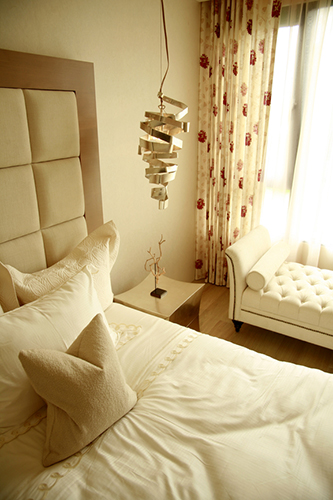 As you hurry to sort out your holiday gift list and shop for your family and friends, make your own holiday wish list with a home improvement spin. During this season of celebrating and hosting holiday gatherings, there's no better time to give your home a little TLC with the following upgrades:
Bedding for Guests
'Tis the season for holiday houseguests. Whether your in-laws are coming to town to stay with you for Christmas or your college roommate and her family will be visiting to ring in the new year with you, an essential part of being a great host is providing a comfortable and cozy place where guests can rest their heads after a busy day of winter fun. Start by upgrading the mattress if it is five to 10 years old. Spring for a king- or queen-sized mattress instead of making guests squeeze into a full- or twin-sized bed.
Top the mattress with new bedding. For an ultra-plush bed, choose a monochromatic color scheme like white sheets, a thick, white wool blanket and a white duvet, and top it with plenty of pillows. Be sure to mix it up and provide two firm pillows and two softer options to accommodate a wide range of preferences.
Furnishings
Between holiday parties and family get-togethers, the furniture in your living spaces will be a focal point, so why not take this opportunity to upgrade them to be more stylish and comfortable. With the vast majority of retailers offering holiday discounts, you may even be able to score new furnishings for a fraction of the price you would have paid just months earlier.
Window Treatments
You can make a dramatic change in your family room without splurging on new furniture, too. You can accomplish this by simply updating the window treatments. Create a beautiful backdrop for all of your holiday memories by getting rid of those old mini blinds and trading up to some elegant roman shades. Or, if you want a more energy-efficient window covering that keeps the heat in during the winter and out during the summer, solar or cellular shades may be an ideal option.
If you're on a tight budget, consider leaving your current blinds and topping them with new, full-length curtain panels. Hang the curtain rod a few inches above the window (just below the ceiling) to make the windows look larger for a luxurious touch.
Kitchen Organization
During this time of year, your kitchen is bound to be full of action, but too many cooks in the kitchen can deter efficiency. So, make it easier for everyone to help by streamlining your kitchen organization before the holidays arrive. Clear out the pantry, and get rid of anything you no longer need. Rearrange the servingware so that it is all in one area for easy access, which will make dinner parties a little less stressful to host. Invest in any necessary cabinetry organization systems, and add additional shelving where possible to maximize your storage capabilities.
Google+