Fixer-uppers aren't for everyone. There are many prospective home buyers who insist on buying new or simply cannot see the potential in homes that require extra work. But for those who are up for some remodeling adventures, the cost savings and end result could be phenomenal with the right property and a seasoned team of contractors.
So how do you convince your clients to look beyond the current condition of a home and envision the renovations that will transform it into a masterpiece? Here are some ideas worth considering:
1. Cosmetics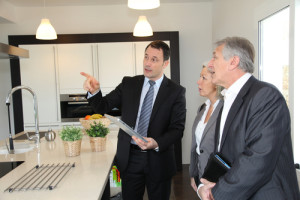 When clients enter through the front doors of a fixer-upper, how do they generally react? If you're given a nod or verbal expression of disapproval due to unappealing lighting structures, outdated appliances or distasteful kitchen cabinets, communicate that these fixes are cosmetic in nature and can be executed fairly quickly, assuming no other significant issues arise.
2. Private Oasis
There are prospective home buyers who get hung up on exterior issues before they even enter the home to take a peek. As a real estate agent, it's your duty to remind them that sod can easily be swapped out, grass can be fertilized and new flowers can easily be planted. In some instances, buyers may even have the option to convert the rear of the home into a backyard oasis by installing a deck. Or to really bring out the "wow" factor, they might opt to install a pool that makes the space useful without breaking the bank.
3. Location, Location
Select neighborhoods are more desirable than others, particularly those with low crime rates and well-performing school districts. Properties in areas like this have a track record of maintaining their values over time. Emphasize this consideration to potential buyers if they're stuck on cosmetic mental blocks.
4. Do-It-Yourself Resources
Still having a difficult time getting your clients on board with a fixer upper? Suggest a handful of resources with visual examples of successful remodels to help your clients envision a home's potential. Recommend Pinterest, HGTV, and the DIY Network as great places to start. Sites like ThisOldHouse.com offer before and after kitchen remodel photos that may help provide added inspiration.
An Important Consideration
Have you heard the adage, "One man's trash is another man's treasure?" It definitely rings true in this situation. A home may have already turned off a handful of prospective buyers who couldn't visualize the home with its much-needed improvements. But it just takes one buyer to recognize a diamond in the rough, and that buyer can often score a great deal on a home. Generally, the less interest there is in a home, the more bargaining power the buyer has on his side. Use this to your advantage as you represent your buyer through negotiations. A seller may be thrilled to know that the buyer has exciting plans to revive their former home.
Purchasing a fixer-upper grants your clients the opportunity to customize a property into much more than they ever imagined at a fraction of the cost. Help your clients see the advantages of fixer-uppers, and help them get a great deal on their property in the process.
Google+