With the amount of technology available, it's never been easier to maintain your household. Not only can you control what goes on in your home while you're there, but while you're away, too. The following systems and applications are just a few of the capabilities available to make your life easier than ever.
Thermostats
With thermostats like Nest, you can control your temperature remotely from your phone using the Nest app. This means that if you realize you left the AC running when you're already on your way to work, you can turn it off with a tap on your screen. Not only is this convenient, but it will also help save you money on utilities.
Security Systems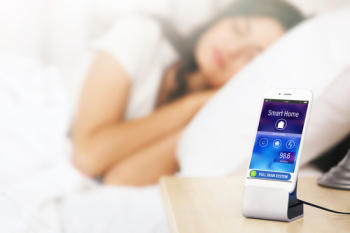 Whenever you're away from your home, sometimes you can't help but worry that something may happen. That goes double for when you decide that your kids are old enough to be left home alone. With security systems like Lorex, you can monitor your house remotely through your phone. This means that you can watch a live stream from every camera in your house and playback any of the footage whenever you want. You can also enable push notifications to let you know instantly when motion is detected.
Pet Feeder
It's not always easy to find someone to watch your dog when you're away, and sometimes you just forget to feed Fido when you're in a hurry. Pintofeed pet feeder lets you control a food dispenser from anywhere at anytime from the app. Now you don't have to feel as guilty about leaving your pets alone for a while.
Smart Keys
We've all run around desperately searching for our keys at one point in our lives. Tile key finder allows your to "call" your keys like you would call your phone. All you have to do is attach the key chain and call it using the app whenever you can't find them. If you want to ditch your house keys all together, Lockitron allows you to lock and unlock your home directly from your door. You wouldn't have to worry about whether or not you forgot to lock your front door every again.
Coffeemakers
For all of the coffee lovers out there, you can now order a cup of coffee from your kitchen straight from you phone. Scanomat is leading this revolution by designing machines that can make a variety of drinks without you ever having to be near them. Sure you can stick to your programmable coffee pot, but wouldn't it be nice to never have to grind your own beans again?
Your Car
When the weather is too cold or too hot, stepping into your car can be a nightmare. With apps like Viper, you can turn on your car before you hop on in. It also allows you to lock, unlock and turn on your car alarm just like your keys would.
Smart Outlets
For those who are concerned with their carbon footprint or just lowering their electricity bill, smart outlets could be the way to go. The Monostrip smart outlet adapter has the capability to tell you through your phone how much energy you're using based off of what is plugged in.
With applications like these and many others that are on the market, it's never been easier to live the futuristic life we've all been dreaming of. Life can be stressful, but at least you can rest easy in the fact that your home will be one less headache.
Google+