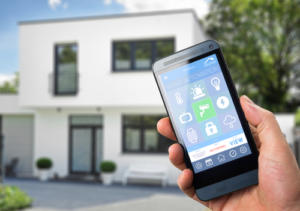 In 1999, engineer Kevin Ashton coined the term Internet of Things (IoT) to describe all devices that can be remotely controlled through an internet connection. When Ashton first said it, the practical possibilities were still being discovered. Now your house and everything in it is part of the IoT. This has become so popular that high-end buyers have come to expect some degree of home automation. Here are a few examples of home automation that make houses more attractive to buyers.
A One Bedroom That Can Become Three
Probuilder Katy Tomasulo tells us to build flexibility into any high-end home. This can be accomplished on a design level or by using automated devices. For example. walls can be constructed on casters, giving you the option of making portable partitions in large spaces. Simply roll the wall to the place you need it and it will change the layout of the home. For a more technological approach, flip up exterior walls as a great way of blending the interior of the home with outdoors' natural gifts. Much like a garage door, these movable exterior walls open up with the touch of a button, allowing your interior living space to expand into a patio.
Wearable Homes
There is an app for almost everything, including all of the IoT devices within your home. From your mobile device you can control the temperature, security and lighting. Using wearable tech like Samsung's Gear S2, music and video within the home can be controlled from your wrist. To get the best out of this technology, you will want to integrate it into the body of the house. Sound systems should be built into the walls and security cameras need to be hardwired into the structure. This will give the illusion that it is the house that is an IoT device and not just a bunch of add-ons that were placed after the fact.
A Well-scheduled Home
Research has found that many people do not use the IoT resources that are available because they feel that the interface is too complex. Security has one set of instructions while music has another. Scheduling can be difficult if you are working from the small screen of your smartphone. Casalendar out of the University of Zurich is changing this. Their system takes all of the IoT functions of your home and allows you to control or schedule them with a simple interface that looks a lot like a Google calendar. This is perfect for the high-end home equipped with the snowbird in mind. You can schedule temperature so that pipes don't freeze even if you are going to be away during the winter months.
Talking To Your House
Of course the pinnacle of a futuristic home is one that you can speak to. This is what we always dreamed about while watching Star Trek. Now technologies like Siri and Cortana have opened the door to communicating with our house. Engineers are now testing houses equipped with Distant-speech Interaction for Robust Home Applications (DIRHA). Using more than 40 microphones in the house, the system can distinguish between normal voice commands and typical background noises. Speech recognition software lets your house understand what you need and process it to the IoT device within the home. To prove its intelligence, the current version speaks four languages.
Google+