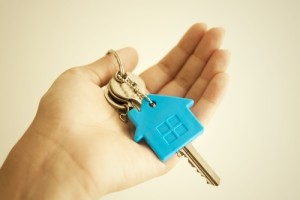 Buying a house is nothing to take lightly. It's not like buying an appliance, which is easy to move, fix and, if you must, cut as a loss. It's not like renting an apartment, which comes with a built-in temporary mentality. And it's definitely not like leasing a car, which is relatively easy to trade in if you change your mind.
No, buying a house is a much bigger commitment. Not only do you have to consider location and layout, but you have to understand big scary terms like "homeowners insurance" and "property taxes." You have to pay a mortgage. You might have to maintain a lawn. When something breaks, you are responsible for fixing it.
But, no fear. With some common sense mixed with preparation, you're going to be just fine.
Take a Good Hard Look at Your Budget
You want this home to be a blessing, not a curse. If you overextend yourself with a pricey mortgage, you can either say goodbye to your carefree lifestyle, or hello to buckets and buckets of debt. According to money guru Dave Ramsey, an affordable home is one where the payments are at or below 25 percent of your take-home pay. Additionally, he suggests waiting to make the purchase until you can make at least a 10 percent (20 percent is preferable) down payment. Don't forget to also consider other household-related expenses, such as utilities, insurance, recycling pickup and more.
If you're not quite there yet, adjust your lifestyle and start saving. Apps like Mint.com can help you create a budget and monitor your spending.
Work with an Agent and Lender You Trust
Searching for a realtor is kind of like dating—you have to shop around until you find someone that fits. Once you do, ask a lot of questions and trust your gut. If something feels off, it probably is. First, make sure the agent specializes in the type of property you're interested in. You may even look up whether or not they are part of the National Association of Realtors, an organization that requires its members to live by a code of ethics.
The same thing goes for choosing a lender. Before applying for a mortgage, educate yourself. Try to get an understanding of your credit rating and how it can affect the house-buying process. A service like LifeLock can monitor your credit and protect you as your personal information is passed among parties during the loan process. Then ask a friend or co-worker for suggestions or references of companies they've worked with in the past.
Ask Yourself These Questions
Buying a home is just as much of a mental and emotional commitment as it is a financial one. If you're still on the fence, your answer for the majority of these questions will be a good indicator of whether you're ready or not:
Am I ready to settle down in this area, at least for a while?
Am I preapproved for a mortgage?
Do I have job security?
Am I ready to maintain a home on a constant basis?
Would my budget suffer dramatically?
Do I have a rainy day fund?
Do I understand the risks involved?
Am I willing to adjust my lifestyle?
Do I have a fallback plan?
↓↓Start your home search today!↓↓
[Janesville Area Homes for Sale]
http://www.JanesvilleRealtor.com
http://www.MadisonWIForSale.com
Google+