You'd be amazed at what a fresh coat of paint can do for your home. If you want to give your house a new look or plan to sell it soon and want to boost curb appeal, painting the exterior is a simple and economical way to do it. But before you break out the roller brush, there are other factors to consider. Like any home improvement project, a simple paint job can turn disastrous if you are not properly prepared. To get the best results, follow these simple steps.
Setting Up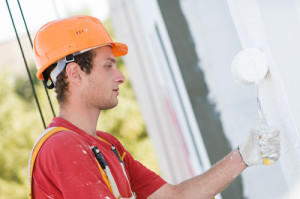 Properly preparing can make all the difference between a successful paint job and a DIY disaster. First, you'll need to make sure you have protection for your eyes and mouth from fumes and chemicals. You should also cover shrubs, sidewalks, air conditioner units, windows and trim and anything else that could get paint on it.
You'll need a ladder and/or scaffolding to safely paint the top portion of your house. If you don't own a safe ladder and don't want to buy one, there is likely a local supplier with ladders and scaffolding for rent. Other supplies you will need, according to Real Simple, include a five-gallon bucket, paint stirrers, roller tray, drop cloth, painter's tape, paint scraper, electric sander, screwdrivers and other tools for repairs.
Scraping, Sanding And Washing
After you've set up your supplies, prep the exterior before you start painting. First, use a scraper to get rid of any chipping or peeling paint. Then, use an electric sander to remove the remaining paint and smooth the surface of the house. You'll need to wear eye protection and a respirator or surgical mask as many homes, especially homes built before 1978, may have lead in their paint which can be harmful if breathed or ingested. According to This Old House, you can test the paint by sending a chip of it to a lab before you start taking it off to be sure.
After you've removed the paint, wash the entire surface of the house with water. According to Lowe's, you can also use a power washer to make the job faster and easier, but be careful because the pressure can damage wood or even break windows if not used properly.
The Importance Of Primer
Generally, you'll want to prime your house after you sand, wash and fill any cracks or holes. You won't be doing yourself any favors or saving any time if you skip it. Without a properly applied coat of primer, you could up end up with a streaky or uneven paint job. Then, sand the surface again and apply your first coat of paint. However, as DIY Network points out, you can buy paint with primer already mixed in. These products are usually more expensive, but can save time and may cost the same as buying paint and primer separately.
Choosing The Right Paint
When you are finally ready to start painting, make sure you have the right kind of paint for your home that is high quality and durable. HGTV shares that a generally good type of paint to use on home exteriors is 100 percent acrylic laytex. A higher quality paint will have a higher amount of "volume solids," which consists of color pigments and binders that adhere to the painted surface. These paints are usually labeled "premium" or "super premium." Choosing a color may not be as simple as it seems, either. Consider a color that won't easily fade or clash with other elements of your home like the roof or trim. You should also check with your HOA to make sure there aren't restrictions on paint color.
Google+