Introducing our home buyer specialist, Tom Salmon, Realtor® | Real Estate Agent serving the Dane and Rock County area!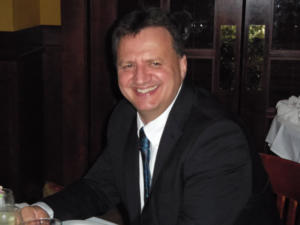 "Hello, my family has been in Wisconsin as far back as I can remember. I grew up in Watertown, WI where my parents and two bothers and their families currently live. My wife Debbi and I currently live in the Madison area and are proud to call Madison our home. Between Debbi and I we have 7 children and 10 grandchildren. Throughout the various stages of my life, I have found that no matter how busy life gets, family is most important and I always enjoy the quality time we can spend together.
My favorite time of the year is Fall. I enjoy seeing the change of colors in the trees, feeling the refreshing cool air after a long hot summer, and knowing the Packer and Badger football season is upon us. I also try to get the family together for a cookout or two before the first snow fall makes an appearance. Every Fall I like to visit different parts of the state to see the changing of the season and spend some great time with my wife and kids sightseeing.
One of my other favorite things to do is stay at different B & B's (Bed & Breakfasts) throughout Wisconsin. I enjoy the hospitality that is offered and the breakfasts have been delicious. Debbi and I can escape the fast pace of life for a weekend and do sightseeing, hiking, cheese and wine tasting, and take in the ambiance of a small town or view of a lake. Debbi and I have been to New York once in Fall 2014, and would like to go back again some time. There is so much to see and do in the city, we really would like to go back and see all the things we missed. What I find most interesting about traveling, is how the locals can point out a tourist in a second, especially in New York. I know as I'm trying to take in the surroundings, enjoy the adventure, and be in the moment, I'm sure I stand out completely. I'm also intrigued by the stories and history of the places I visit.
As an Engineer in my previous career, I found myself looking to make a change. Real estate seemed interesting and challenging at the same time. As I looked into real estate as a career it appeared a great fit for me. Not only do I get to help people by providing information, offering a market analysis, helping to overcome obstacles and maybe even help calm some fears about selling a home, I also have the opportunity to find that perfect dream home for someone. Knowing I have made a family happy at the end of the day, exceeded their expectations, and provided a smooth journey through the real estate process is what drives me to do the best I can!"
Contact Tom:
Tom Salmon
Real Estate Agent/Realtor®
262-352-1918 (cell)
Tom at RockRealtyWI.com
Google+