The human eye naturally goes to the brightest place in a home, states real estate photographer Larry Lohrman. And, in most homes, this is the window. They let in light, keep out the elements and frame your view of the world. So, as a real estate agent, your job when staging the home is to get the most out of your windows, including their location and unique shape. This can mean the difference between a happy customer and an unimpressed walk-away.
Dress Them Up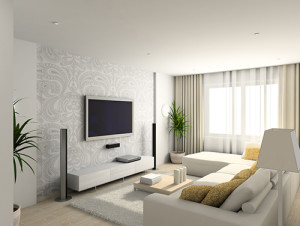 Unlike other pieces of decor in the home, windows cannot be moved from room to room. This means you must do what you can with them where they are. Initially, windows were used to connect humans to the outer world while still keeping their homes safe and secure. Modern interior design revisits this aesthetic by including plants, natural stone and natural colors alongside large windows. This connects the inside and outside for a peaceful and natural feel.
So, if the windows in your property offer a great view, keep them open to show off the surrounding area. But, if the light is too harsh at certain times of the day or pulls the view away from other great features, use blinds or shades to moderate the connection between inside and outside.
Window shapes and treatments also can enhance the architecture and add to the style of the room. For example, classic Victorian homes need elegant, luxurious fabrics that represent a time of sophisticated glory. Or, if you aim for a more modern look, wood blinds will paint a picture of minimalism.
Go Green
While windows can beautify a home, they also can be a good energy source. They can provide natural sunlight to help reduce the need for artificial lighting as well as insulate a home so that less heating or cooling is needed. Window treatments can further the efforts for less energy consumption. According to the Department of Energy, blinds are a good way of reducing summer heat gain and can adjust the amount of light intake in a room. Overall, using less energy helps your home be environmentally friendly, which is a perk to potential buyers.
Get Circulation
Before the creation of air conditioning units, windows were used to offer air circulation throughout a room. From a sustainability point of view, natural ventilation can reduce cooling loads between 40 and 70 percent, according to the book "Future Office" by Chris Grech and David Walters.
In addition, open windows allow the smells and sounds of the surrounding area to enter the home. This can be a significant selling point to a potential buyer, especially if you live in a rural area. When setting the atmosphere of the property, open the windows on a beautiful day to allow fresh air to circulate the rooms.
No matter where your property is located, take advantage of all the benefits windows bring. Stage the home with natural sunlight, stylish window treatments and a fresh environment. This can make all the difference in getting a sale.
Google+