Pests. They're everywhere. Whether they're big or small, pests can be found in any place, from restaurants and hotels to homes and apartments. Yes, even that house you've got your eye on. As a first time home owner, pest control should be on the top of your good housekeeping checklist.
Despite the cold weather, Wisconsin is home to a range of pests, including bed bugs and beetles. Don't be discouraged, though. As a homeowner there are a handful of things you can do to treat and prevent the small pests in your home.
Bed Bugs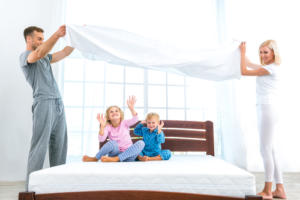 These tiny, biting pests can be found in nearly all public spaces, including hospitals, schools, daycares, airports, retail shops and hotels as well as in the private space of your home. While it may seem like these pests are linked to dirty, unclean areas, it is simply not true. Bed bugs are hitchhiking pests, which means that they attach themselves to clothing, people, bags and luggage, moving from one place to another. While these tiny pests are not known carriers of disease or illness, bed bugs do bite, which results in itchiness, swelling and redness.
As a new homeowner you can take action to help eliminate and prevent bed bugs all together by cautiously choosing what you bring into your home. For example, you shouldn't bring in second-hand furniture, as discarded furniture may be full of bed bugs. Additionally, when returning from travels, pest experts strongly suggest that homeowners wash and dry all of their linens and clothing right away on the highest temperature settings to eliminate any possible bed bugs that may have clung onto clothing and linens during travel time. You also should elevate your luggage when spending time in hotels with the luggage rack.
While cities like New York and Chicago have made headlines for bed bug problems, the pest issue is not restricted to those singular areas. Milwaukee also is included in Orkin's Top 50 Bed Bug Cities list. The pest management company ranks the city as No. 26, behind Boston and Knoxville, Tennessee.
Beetles
With more than a quarter million different species throughout the world, it's not uncommon to spot beetles in your Wisconsin home. Sometimes mistaken for cockroaches, beetles feed on plants, animal fibers and small insects.
Not all beetles are bad. Lady bugs, for example, feed on insects that are harmful to people. However, some beetles are destructive. Carpet beetle larva feed on feathers and natural fibers and often damage woolens and other types of fabrics throughout the home. Some beetles, including both grain and flour beetles, feed on food products found in your pantry. And outdoor beetles can ruin landscapes and lawns.
When treating beetles it is best to work with a pest management company. A professional can help identify the species of beetle and apply treatment that is tailored to get rid of the pest. They also can educate you on how to control beetles, including good sanitation practices around the home. In fact, in many cases, beetles can be eliminated with a vacuum.
Google+