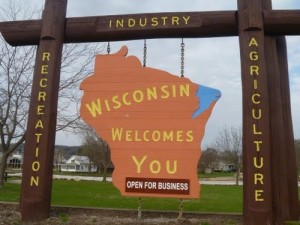 The Wisconsin housing statistics are in for February of 2014. Here is an excerpt from what the Wisconsin Realtors® Association (WRA) had to say:
For the second straight month, home sales dropped as Wisconsin recorded its coldest winter in decades according to an analysis of February housing market activity released by the Wisconsin REALTORS® Association (WRA). Existing home sales dropped 10.1 percent relative to February 2013; however median prices actually increased substantially, rising 7.4 percent to $130,000 over the same 12 month period.
"We live in Wisconsin. We expect slow sales in February," said Steve Lane, chairman of the WRA board of directors. "But we broke many records for cold temperatures this winter, so it's not surprising this year's February sales were off the 2013 pace," Lane said. "Weather extremes weren't the only thing that conspired to dampen sales. Median prices have grown consistently since March of 2012 and mortgage interest rates have been climbing and are now almost a full percentage point higher than this time last year," Lane said.
Below are the number of Home Sales and Median House Prices for the state of Wisconsin, Rock County, and Dane County. These stats include Janesville and Madison. Feel free to contact me if you have any questions pertaining to these figures. As you probably have heard, home sales & prices have been increasing over the past few years. This February showed a decrease of home sale statewide, but an increase in home prices. Dane County's prices stayed fairly stagnant year over year, while Rock County's median home price was up over 20%!
Thinking of purchasing a home before prices or rates rise any further?! I'd be happy to show you any homes currently listed for sale. Feel free to visit Rock County, WI Home Listings to search for current properties listed in Rock County or visit Dane County, WI Home Listings for homes in Dane County.
Now might be the right time to sell your Wisconsin home! If you would like some insight into how much your home is currently worth, I would be happy to provide you with a free comparative market analysis. This is a report that gives a close estimate to what your home might sell for in your current local Wisconsin real estate market. Click below:
What's My Wisconsin Home Worth?
Has your home value fallen below what you currently owe? Have you experienced a hardship like divorce or job loss? A short sale may be right for your situation. Visit our page on Wisconsin Short Sales for more information.
Housing Statistics for the State of Wisconsin:
February 2014
Home Sales: 3,338
Median Home Price: $130,000
February 2013
Home Sales: 3,688
Median Home Price: $121,000
Housing Statistics for Dane County, WI:
February 2014
Home Sales: 331
Median Home Price: $193,000
February 2013
Home Sales: 349
Median Home Price: $195,000
Housing Statistics for Rock County, WI:
February 2014
Home Sales: 109
Median Home Price: $97,500
February 2013
Home Sales: 108
Median Home Price: $78,700
View my report from last month. Wisconsin January 2014 Housing Statistics
Google+